Pub of the Year
Branch Pub of the Year 2020 Queen's Head, Stourbridge
In April earlier this year, CAMRA's Stourbridge & Halesowen Branch was due to present its 2020 Pub of the Year award to the Queen's Head in Enville Street, Stourbridge. Unfortunately, due to the closure of pubs as a result of Coronavirus restrictions, it was not possible to formally present the award to the pub at that time. However, CAMRA members were keen that the pub should not miss out on the award, so in line with CAMRA guidelines, Branch Secretary, Tony Morgan, along with a few local CAMRA members, delivered the award to the pub on Wednesday, 14 October 2020. Licensee, Jo Cundale said "I am very proud to receive the award on behalf of myself and all my hard-working team. I knew that the pub had won the award, and now it's great to have it in my hands so that I can display it in the pub". Black Country Ales Director, Angus McMeeking, said "it's great to have CAMRA's support for our pubs during these challenging times". The Queen's Head is an historic pub, dating from 1862, and once had its own brewery behind the pub. It's now a popular community pub which serves an excellent range of cask-conditioned ales, all in excellent condition, hence the prestigious award.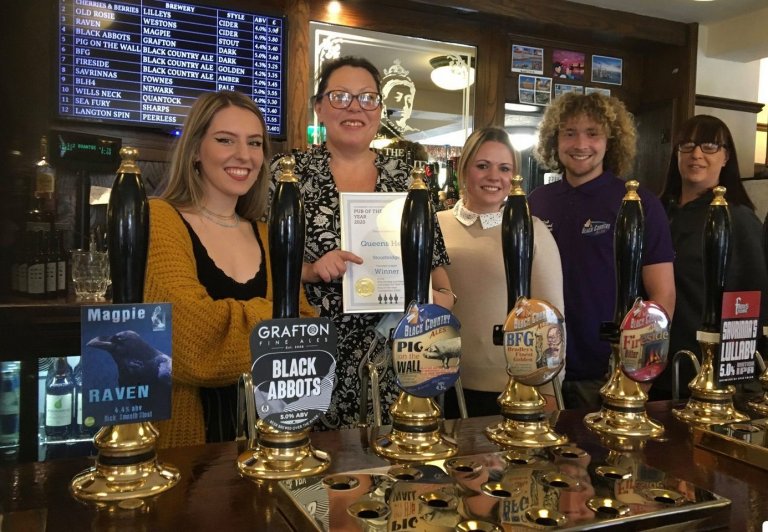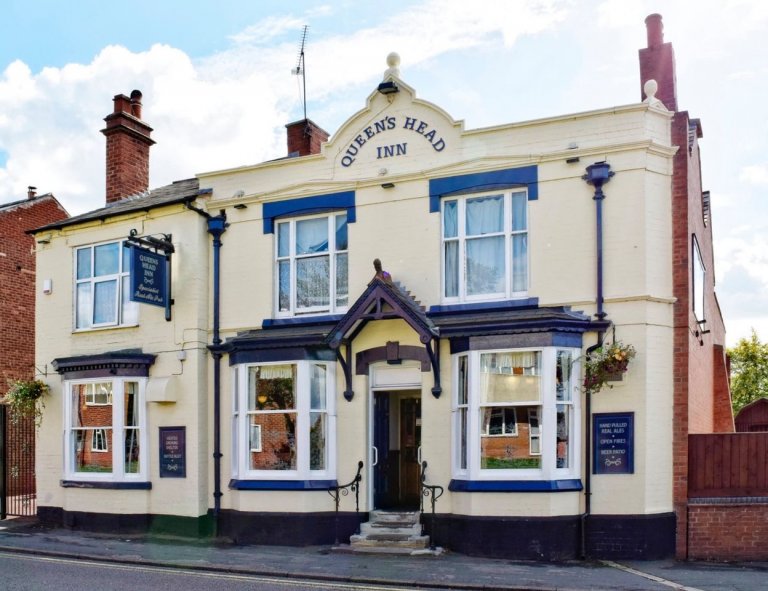 CAMRA's local press officer, Steve Pratt, said "It's a shame that due to current Covid restrictions, we couldn't advertise this presentation to give it the pomp and ceremony it deserves, but it's pleasing to be able to give this award-winning pub much needed support while minimising the risk to individual members. We encourage everyone, especially CAMRA members, to visit the Queen's Head individually, at a time when they feel safe, in line with the current Coronavirus guidelines. And we hope all our local pubs will continue to serve great real ale in the current challenging circumstances, as well as ensuring that the latest Covid regulations are adhered to. It would be a real shame if any of our pubs had to close because they were not properly following the latest rules".


Branch Pub of the Year 2019 Waggon & Horses, Halesowen
Congratulation to Mick & Dawn for winning Stourbridge & Halesowen CAMRA Branch Pub of the Year for the third year running.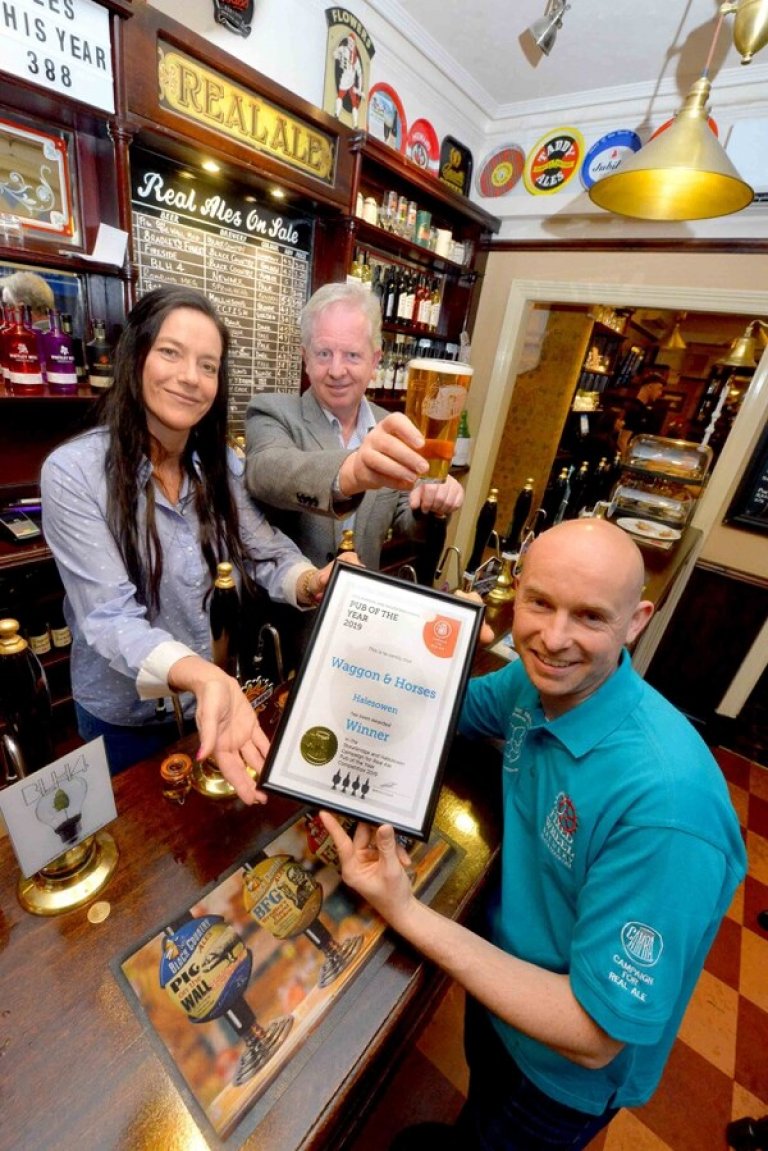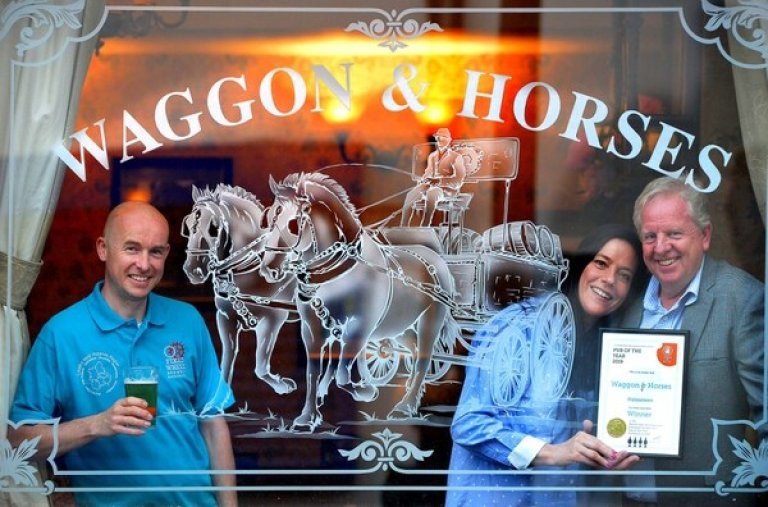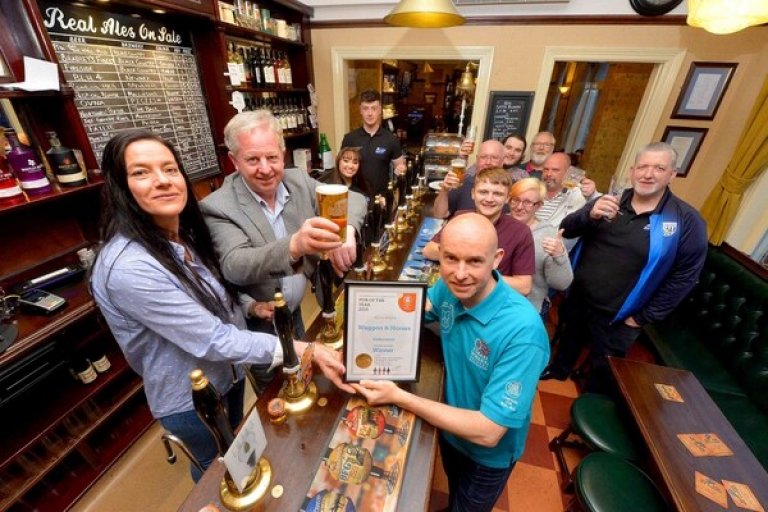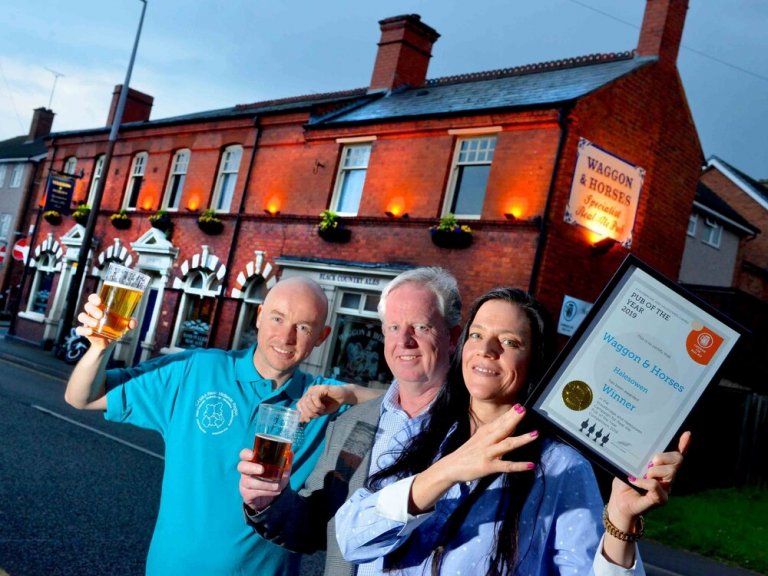 Article innExpress & Star.
The Waggon and Horses in Stourbridge Road was the Stourbridge and Halesowen branch of the Campaign for Real Ale's champion pub for 2019 _ the third year in a row it has been judged best. The pub is part of Black Country Ales and is run by Mick O'Neill and Dawn Taylo, who previously ran the Court House in Dudley town centre for the chain. The branch held its May meeting in the pub when chairman Tim Cadwell presented the award certificate. "Well done to Dawn and Mick on winning this award for the third successive year. It was awarded following a thorough judging process which began with nominations forpub of the year' being made by ordinary Camra members. These were then visited by branch volunteer judges and scored according to approved national Camra guidelines, such as welcome, decoration and quality of real ale.The standard of pubs nominated was very high again this year, and it shows that despite a national background of pub closures, there are still some excellent places to drink a great pint of real ale in our region," said Mr Cadwell. The Waggon and Horses will now go through to be judged on a regional basis in the hope of progressing in the national Camra competition. The pub dates from the 1850s and has been renovated by BCA.
CIDER Pub of the Year 2018 Waggon & Horses Stourbridge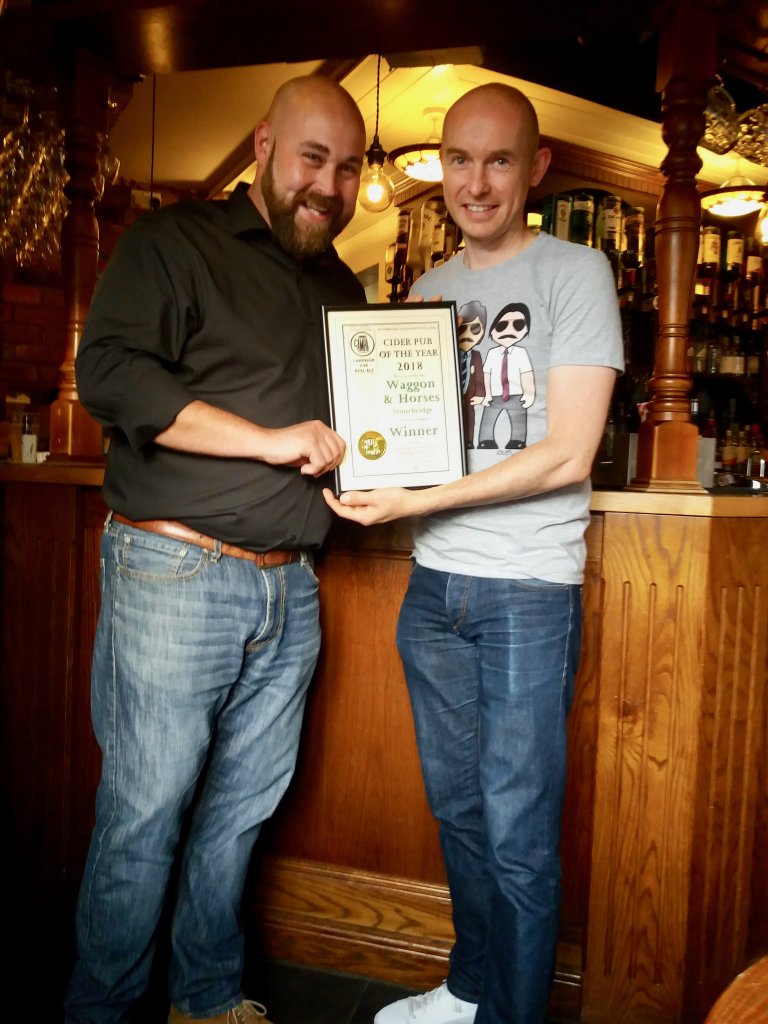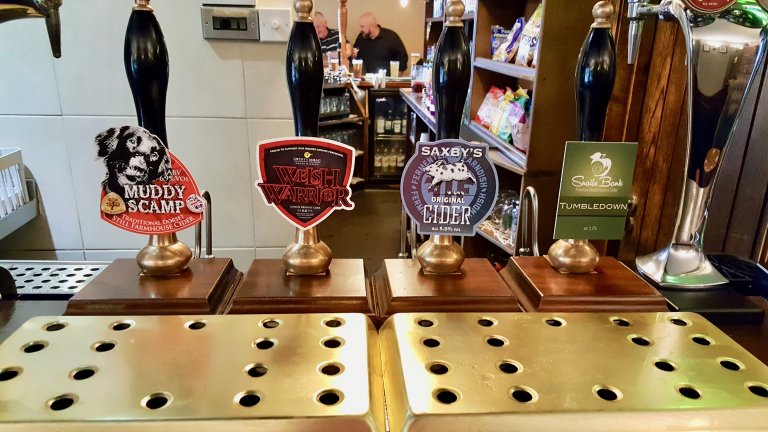 Publican Dan Wilkes receiving the award from Deputy Chair Tim Cadwell. There are always 4 draught real ciders on in the cider bar, on the night on the night of the presentation, these were Muddy Scamp 6.9%, Welsh Warrior 6%, Saxby's Original 5% & Tumbledown 5.2%.





Pub of the Year 2018
Once again the Waggon & Horses, Halesowen was voted Pub of the Year. Congratulations to Dawn & Mick. See video https://youtu.be/f36rQy4n2FU



2017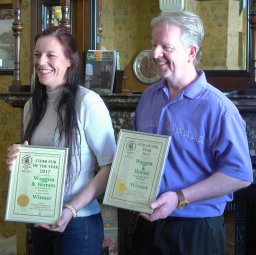 Like the mythical Phoenix rising from the ashes, the Wagon and Horses public house has risen to an acclaimed height since its closure in January 2016 and the refurbished re-launch in March 2016. CAMRA's members have recognised the hard work done by the wife and husband team of Dawn and Mick O'Neil in the promotion of real ale in the Stourbridge and Halesowen area by acknowledging the achievement with awarding the pub not only the Real Ale pub of the Year, also Cider Pub of the Year. Dawn and Mick previously managed the Court House in Dudley and prior to that the Red Cow in Coseley. Dawn stated that she had welcomed the challenge of managing the refurbished public house, that was a landmark in the Halesowen area and with the support of the local people and other who have travelled from afar, she felt that she had reached a recognised achievement by being nominated and awarded CAMRA's Real Ale pub of the Year and Cider Pub of the Year.



Licensees Dawn and Mick O'Neil








2016
The Swan Pub, Long Lane, Blackheath which was in danger of being bulldozed to make way for a supermarket last year, was taken over by a popular brewery, Black Country Ales, over 12 months ago. After a rigorous Pub of the Year round of judging using the criteria laid down by CAMRA, it gained the accolade of being named as Stourbridge and Halesowen Pub of the Year 2016. Not only is it appreciated by CAMRA members but it seems the locals appreciate it tooif the latest Trip Advisor review is anything to go by, "Following what was indeed a fantastic refurb they have created a gem of a pub outclassing anywhere else locally!! This is all a pub should be good beer, fantastic cobs and bar snacks at a great price and friendly staff."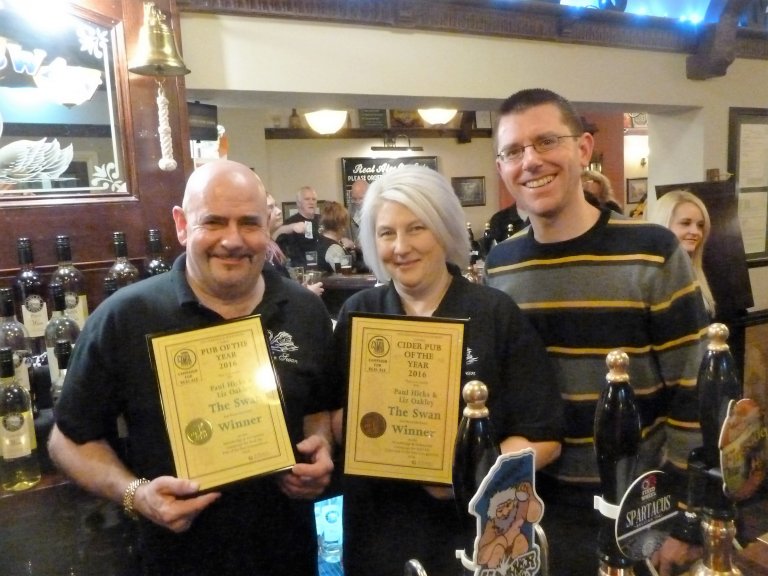 Licensees Paul Hicks and Liz Rogers. with Branch Chairman Rob Parsons