Ales and Tales
Our branch magazine, Ales and Tales, is distributed to 200 pubs within the branch areas of Stourbridge & Halesowen and Dudley branches. If you would like to contribute an article or pub and brewery news please contact Lizzie on moc.liamtoh@700hplarhtebazile
Download the current edition as a PDF file -
Previous editions of Ales and Tales:


Additional Articles:



Beer Days Out
Tasting The Ales in H-ales-owen Halesowen is an industrial town on the south-eastern fringe of the "Black Country" in the West Midlands. Formerly part of Worcestershire, at the time of the Domesday Book it was larger than Birmingham! Iron and steel production were its main industries, including nail-making, but most of the larger foundries have gone. It has a fine Norman church, a ruined 13th century abbey, and Leasowes Park is one of the first landscaped gardens in England, designed by poet William Shenstone in 1743. Other notable residents included Thomas Attwood (MP and electoral reformer), author Francis Brett Young, Bill Oddie and Robert Plant (of Led Zeppelin). Although previously not renowned for its local breweries, it has several historic pubs and we recently decided to see what the town could offer.
Halesowen is best reached by the No.9 bus from Birmingham, or by rail to Rowley Regis station. A ten-minute walk from the railway station along Avenue Road and Long Lane brought us to our first port of call – the Fixed Wheel Brewery (open Fri/Sat). Opened in 2016, Scott Povey and his team produce a wide range of beers, in both cask and keg form, for distribution to local pubs. The taproom was expanded late in 2017 and now offers a fully-fledged bar with wooden tables and seats, with 5 hand-pulled beers and 12 taps, including some guest key-keg beers and draught ciders. This is a friendly bar, popular with locals and beer lovers alike, where we sampled their award-winning Mild Concussion and Blackheath Stout, along with Tiny Rebel Hadouken.


Scott and Sharon behind the bar at Fixed Wheel Brewery

Continuing along Long Lane brought us to Shell Corner where, on the corner of Nimmings Road, we found the Shel-ter micro-bar. Opened in 2017, this small one-roomed bar with wartime memorabilia offers an ever-changing selection of four draught beers, along with a limited range of craft bottled beers. Another friendly and welcoming community bar, where we sampled Malvern Hills Black Pear Bitter and Thwaites Original.
Continuing further along Long Lane, we next visited The Swan, a Black Country Ales pub, dating from 1845 and thankfully saved from closure in 2014. Licensees Paul & Liz welcomed us, and from its wide range of 11 real ales (including the regular Black Country Ales beers), 5 draught ciders and 2 keg taps, we sampled Mallinsons Rasinook and Black Hole Milky Way. If you wish to go a little off the beaten track, then a visit to the CAMRA award-winning Coombs Wood Sports & Social Club, off Stewarts Road, is well worth a side-trip, with its ever-changing range of 8 real ales.
A little foot-weary now, we caught the No.241 bus (half-hourly) to Halesowen town centre. Before exploring the town, another side-trip is well recommended, using the No.142/192 bus (hourly) up Hagley Road to the Crafty Pint on the corner of Wassell Road. Halesowen's first micro-pub opened in August 2016, and owners Andy and Sherry welcomed us into this two-roomed bar, popular with locals. From the range of 5 ever-changing draught ales, we sampled Titanic Chocolate & Vanilla Stout and Salopian Hop Twister.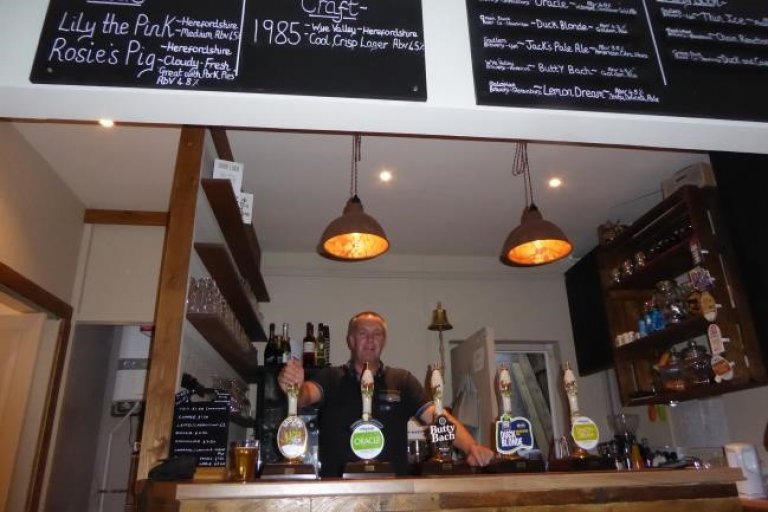 Andy behind the bar at the Crafty Pint

Returning to Halesowen on the No.4H bus, we popped into the local Wetherspoons pub – The William Shenstone - for a glass of Springhead Exodus. Next we caught the No.9 bus towards Stourbridge to visit the Hawne Tavern in Short Street. Lisa and Antonio welcomed us into their pub, which offers 9 real ales, including regular Bathams Bitter, Oakham Citra and Wye Valley HPA, along with an ever-changing selection of guest ales. We sampled Two Roses Black Beauty Stout and Salopian Treasure Trove. A warm and welcoming local pub, which is well worth visiting. We then walked back towards Halesowen, calling into the King Edward VII (previously the Heart & Hand dating from 1865) and sampling Kinver Winter Crystal and Backyard Divinity from its 8 handpulls. Finally, back towards the town centre to the Waggon & Horses, dating from 1852. Mick & Dawn look after this CAMRA award-winning Black Country Ales pub, which offers up to 12 real ales, including the regular Black Country Ales beers and an interesting range of guest draught beers and ciders. We had a couple of tasty cobs, washed down with Blue Bee Azacca Pale Ale, Hop Back Taiphoon and Fixed Wheel Bar Tape.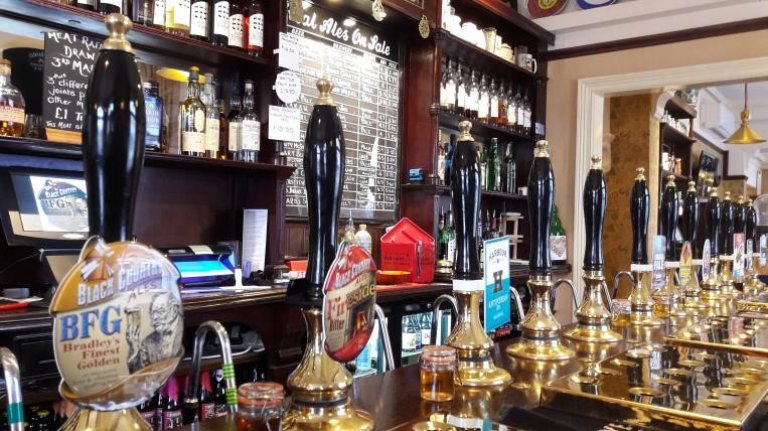 All the beers lined up at the Waggon & Horses, Halesowen

With a little more time, there are other pubs worth visiting in Halesowen. Further along Stourbridge Road is The Whitley (another Black Country Ales house), dating from the 1870's and, closer to the town centre, at the foot of Furnace Hill, the historic Loyal Lodge, dating from 1736, which offers a range of 4 real ales.
Halesowen is certainly to be recommended for a good variety of cask and craft beers within a short distance, and with the bonus of a brewery and a couple of micro-pubs.



Steve James




Raising a glass in Stourbridge


Stourbridge is a large town on the south-western fringe of the "Black Country" in the West Midlands. The town gives its name to local glass production, which originated with the immigration of Hugenot miners in the 1600's. Stourbridge glass was recognised as being amongst the finest in the world, but sadly, most of the large glassmakers have closed or moved elsewhere. However, glasses and beer go together, so we decided to pay a visit to this historic town to see what it could offer.
Arriving by train at Stourbridge Junction railway station, we took the unique Parry People-Mover flywheel-powered lightweight railcar down the shortest branch line in Europe to Stourbridge Town. Passing through the modern bus station into a subway, we emerged into Foster Street for our first port of call at the Red House Boutique. Formerly a sports-bar, it now offers a great range of cask and craft beers from local breweries and further afield. We sampled Salopian's Shropshire Gold and Triumph's Pictish Ale.
Turning left along the High Street, a quick visit to The Chequers Inn revealed an excellent Wetherspoons pub with a good range of real ales. Walking along the High Street in the opposite direction, we found Victoria Passage where, at the end, we found the Barbridge, a tiny micro-pub on the corner of Talbot Street. Here, welcoming staff serve a good range of cask and craft beer and we sampled Kelham Island's Full Nutty Jacket and Burning Soul Simcoe Pale Ale.
Barbridge, Stourbridge
Returning to the High Street, and turning left, we spied The Old Bank, on the corner of Coventry Street. As the name suggests, this is a recently refurbished former bank, and offers a good range of real ales, including Pardoes Bumblehole. Turning right along Coventry Street, on the corner with Duke Street, we found the Duke William, one of two outlets for Craddocks Brewery. The beer was originally brewed behind the pub, but is now mostly brewed behind another pub in Bridgnorth. Famous for its beer and pies, we sampled Saxon Gold and Honey Ewe.
Duke William, Stourbridge
Now for a longer stroll, through the Crown Shopping Centre, across the ring road (Bath Road) on to Enville Street. Two pubs to visit here; firstly, the Queens Head, a recently reopened and refurbished pub taken over by Black Country Ales, where we sampled their own beers, BFG, Fireside and Pig on the Wall. Returning along Enville Street, we couldn't miss the Royal Exchange, a long-standing pub serving the local beer from Bathams, not far away in Brierley Hill.
Returning to Stourbridge town centre for a longer walk along Bath Road, we turned right along Worcester Street towards Mary Stevens Park. On the corner of Chapel Street, we found the Waggon & Horses, recently taken over by Enville Ales, where we were able to sample Enville Ginger, and American Pale Ale from the associated Stourton Brewery. Further along Worcester Street, we reached the historic Plough & Harrow, now operated by Craddocks Brewery. A cosy and friendly pub, full of interesting locals, where we sampled Goat Herder Stout and Crazy Sheep. Then back to Stourbridge Town, by railcar to Stourbridge Junction for our final three bars. Walking through the car park, we soon reached Rufford Road and continued to the Green Duck Brewery, a simple brewery tap (Badelynge Bar) with a friendly family atmosphere. Here, most their current range of beers can be sampled (at £10 for 4 pints), including Duck & Dive, Duck Under and seasonal brews, along with some guest beers (only open Friday and Saturday afternoons).
Windsor Castle, Lye
Continuing along Rufford Road and Hungary Hill, we caught the No.9 bus along the Stourbridge Road to Lye. Here, at the cross-roads with Pedmore Road, our first port of call was the Windsor Castle, the original tap house for Sadlers brewery, where we sampled some excellent Worcester Sorceror and Boris Citrov. Walking north along the Dudley Road, we turned right into the station car park to find our final brewery tap, the new Sadlers Brewery (opens Wednesday-Saturday). A modern building with the bar on the first floor, with a viewing gallery to see the new brewery below. We had an excellent meal, washed down with the inevitable glass of Mud City Stout and Peaky Blinder.
Sadlers Brewhouse, Lye
Stourbridge is certainly to be recommended for a good variety of cask and craft beers within a short distance, and we rejoined our train at Lye station for our return journey home.
Steve James